Fort Myers Dental Inlays & Onlays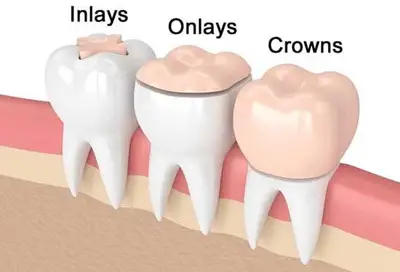 Similar to crowns; but require less tooth structure to be removed to accommodate the restoration. These alternatives are ideal for teeth that still have adequate tooth structure remaining.

FiddleSticks Dental Care- Inlays / Onlays
Dental inlays and onlays in Fort Myers is a viable dental treatment performed at FiddleSticks Dental Care. Crowns and implants are more well-known but dentists use inlay / onlay alternatives to customize the treatment so it is precisely right to fix the patient's dental issue.
What are Inlays and Onlays?
While crowns work well for a large fracture or deep decay and fillings fix small cavities, inlays and onlays are used when a crown is too much and a filling is not enough. Specifically:
Inlays: A filler for hollows and cavities in the areas between the cusps. Simply put, cusps are the larger extension on a tooth, the part of an upper tooth that first touches the lower tooth and vice versa, the biting surface. Molded inlays fit into the hollow but do not affect the cusp
Onlays: A filler used in the cavities and hollows as well as in a larger space including the biting surface. Onlays are used to strengthen the tooth while also protecting the fractured or decayed area. Often, these are called partial crowns.
In both cases, impressions are made of the impaired area and sent to be manufactured as an inlay or onlay, a perfect seal to prevent further bacterial entry to the damaged tooth area. The entire inlay / onlay process usually takes three sessions.
Note: On average, and cared for properly, inlays and onlays can last from 20 to 30 years as one of the most durable dental treatments.
Contact FiddleSticks Dental Care, a full-service Fort Myers dental practice to discuss whether an inlay or onlay is the best solution to treat your damaged tooth. We will take care the rest!