Cosmetic Dentistry Services In Fort Myers, FL
Veneers: Veneers are thin shells of porcelain that are custom made by your dentist and the dental lab to enhance your smile. These are bonded to your teeth.
As with other dental restorations veneers may need to be replaced someday due to staining or decay. However, they are durable and can last many years.
You may need veneers if:
Teeth are stained and discolored and do not respond to whitening.
Chipped
Crooked and misshapen
Too small or too large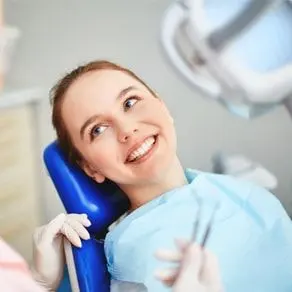 The procedure for veneer involves 2 visits about 2 weeks apart. during the first visit the teeth are numbed and prepared minimally. impressions are taken, shade selected by you and your dentist together, and sent to the lab to have the veneers fabricated. You will have temporary veneers placed on your teeth for the interim.
On the second visit, the temporaries are removed, teeth cleaned, veneers tried in and bonded to the teeth.
Teeth Whitening: Tooth whitening is a non-invasive way of changing your tooth color in order to enhance your smile and make it more youthful.
We offer the opalescence system from Ultradent in our office. There are three ways of whitening your teeth:
Preloaded trays
In-office one hour whitening
Custom made take-home trays
All the above methods get the same result and only differ in the time needed. Whitening may not work the same for everyone. Some of us will respond better than others. Teeth with stains on the surface will respond better than teeth with intrinsic and tetracycline stains.
Fort Myers Invisalign: Invisalign is a way of straightening your teeth without the use of wires and brackets like those used in traditional braces. A series of smooth comfortable plastic aligners are fabricated specially for you which gradually move the teeth into a position that has been determined by your dentist or orthodontist. You can achieve a great smile with little interference in your daily life.
Root Canals: When a tooth is badly decayed it may need a root canal to save it. In this procedure, the inflamed or infected soft tissue core comprising of nerves and blood vessels is cleaned out and replaced with an inert material. A core filling and crown are strongly recommended for a tooth following a root canal to prevent it from breaking. A root canal saves a tooth and can prolong its life for many years.
Extractions: Teeth that are decayed extensively and deemed non-restorable need to be removed. At our dental practice, we extract the teeth in-house or refer the patient to the Oral Surgeon depending on several factors including but not limited to whether it is a wisdom tooth, whether patient needs to be sedated etc.
Implants: Artificial dental implants replace the loss of the tooth. In fact, as opposed to a bridge, a crown or doing nothing, implants can be a great alternative to missing teeth. They have proven to be the most effective and durable of all teeth restoration procedures.
If You Are Interested In Cosmetic Dentistry From FiddleSticks Dental Care At Our Fort Myers, FL Offices, Call (239) 225-1145 Today For An Appointment!